Methodology
My father, Miroslav Hruska, made three expeditions to northern Sikkim and to the Kanchenjunga region in Nepal. On all these expeditions he made a remarkable photographic record of still photographs and 16mm movie film. He used a Zeiss Super Ikonta BX camera with a Zeiss Tessar f2.8 lens for the black-and-white photographs of the mountains, valleys, and the local peoples of Sikkim. This was quite an advanced camera for that time and the quality of the images is extremely high. My father had all the images enlarged to a 1 foot by 1 foot format and placed them in an album which had a solid hard back cover for protection. This album has survived in remarkably good condition and has been lodged with Athabasca University as part of my father's collection.
Not only did my father have a still image record, he made approximately 1200 feet of remarkable 16mm movies of his expeditions. He used a 16 mm Paillard Bolex H-16 movie camera. In 1949/1950, this was state-of-the-art 16mm movie-making equipment. The colour film was Kodak Kodachrome colour film which came in 100 foot daylight loading spools. The exposed film was spliced and joined together to fill a 400 foot reel for viewing. At home, we had a Revere 16mm Model 48 movie projector and, remarkably, this 16mm projector works today as well as it worked over 60 years ago on film nights at our home. Being able to view these films today was an essential part of reassembling all the details relating to my father's treks.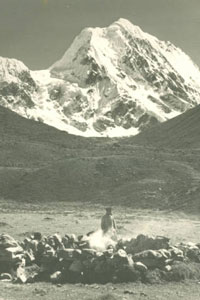 View of northern side of Mt. Chombu 6363m from the Palong valley
My father was an excellent raconteur. His enthusiasm for and love of the mountains came through in his commentary. As our family sat through his film nights, the place names and mountain peaks that were part of his commentary came to life and became part of our memories. In late 2009, my brother and I were amazed at how we could still recount most of the names of the places and mountains and also associate them with their images.
The first name that I remember vividly was Chombu, not only for the absolute magnificence of this mountain peak but also because of the devastation that it caused in the earthquake of September 1950. In his films, we had witnessed a real "before and after" scene. He had first trekked into the Lachung valley in November 1949; my father often referred to it as "the most beautiful high mountain valley he had ever seen". His film is testimony to that beauty. Two years later in 1952, when he filmed the same valley, he was confronted with a valley of devastation. There was now a large river bed on either side of which was a rasped landscape strewn with boulders. It was as if a giant bulldozer had worked its way down the valley. He explained that this was the effect of the earthquake that had caused part of the side of Chombu to break away and fall into a high mountain lake located directly below it, emptying this lake and sending a large wall of water cascading down the mountain valley. As this wall of water made its way to the lower reaches, it left behind a trail of ruin. This story and the film images of the aftermath of this event stayed with me.
And as we saw the films for the 10th, 20th, 30th or 40th time, other names and images started to register in my memory. In this way, I started to remember a formidable array of names and their associated images. And, most importantly, my father's trekking route began to take shape in my mind. So names like Gangtok, Teesta River, Changthang, Lachung, Shariki Danechung, Pauhunri, Yumthang, Chombu, Sebu La pass, Kangchenjau, Jonsong Peak, Lhonak La pass, Langpo Peak, Mt. Siniolchu, Wedge Peak, Simvo La, Johnsong Peak, Jannu, Kangchenjunga, etc. stayed with me.
View up the Valley with first view of Chombu over the right ridge
My father was on the board of the Himalayan Club in Calcutta as their Equipment Officer. The club also published The Himalayan Journal which captured the records and activities of its members. The first issue came out in 1928. My father subscribed to The Himalayan Journal and he kept many copies going back to 1933; the last one in his collection dates from the mid 1950s. These early editions were a valuable resource for me as I read the accounts of expeditions to Sikkim, especially Northern Sikkim. Apart from the interesting narrative, many issues contained simple maps and diagrams of their routes. Later issues also recorded numerous foreign expeditions to some of the highest peaks in the Himalayas. In 2010, I ascertained that Mr. Braham was still alive and living in Europe, so I contacted him and was able to "flesh" out some details of the 1949/1950 expedition.
I started this project with the photographic album that my father made. Fortunately, the photographs were assembled in the album in a sequence that mirrored the route(s) that he had followed. So, with this knowledge and assisted with formidable tools like Google images, Google maps and the old maps that I found in the copies of The Himalayan Journal and elsewhere, I managed to reconstruct not only the route taken by my father on each expedition but also the names of nearly all the mountains shown in the still photographs.
There was, however, one particular problem that I encountered, namely, that the English names of the mountains that were commonplace in the 1950s and 1960s had now acquired Nepali and Sikkimese names. But again, with the help of Google and the Internet, I was able to correlate most of the English names with the Nepalese/Sikkimese versions. Throughout this narrative I have used the names that are also referenced in the research resources outlined below.
Related Links