Introduction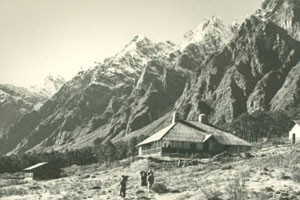 View of Yumthang Dak Bungalow looking south
This collection has been lodged with Athabasca University in memory of my father, Miroslav Hruska. My brother, Charles Hruska, and I hope that the collection will assist research and contribute to the history of mountaineering in the region.
I would like to extend my sincere appreciation and thanks to the staff of Athabasca University Library and especially to Tony Tin, former Head Digital Initiatives and Electronic Resources, Colin Elliott, Manager, and Marcia Woytovicz, Digitization Technician both with Web Projects and Services. In addition, I would like to thank Trevor Braham, mountaineer, author and fellow Himalayan Club member with my father who supplied background for part of this collection. Finally, I would like to acknowledge my brother, Charley and my wife, Dr. Evelyn Ellerman, both of whom provided assistance, support and suggestions in completing this project.
The original materials are available to researchers in the Thomas A. Edge Archives & Special Collections at Athabasca University under accession number 2010.001.
Related Links