Background
Miroslav Hruska was a Czech who was living in Calcutta at the time that he made these expeditions to Northern Sikkim and Nepal. He had arrived in India in 1939 as an employee of the Bata Shoe Company, which had a factory and residential colony located in Batanagar, approximately 20 kms south-west of Calcutta. Within a short time, he left Bata to establish his own hurricane lantern manufacturing company in Calcutta. The family lived in Calcutta during all this time. He finally left India for Australia in the early 1980s.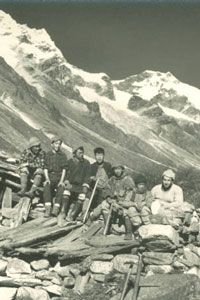 Sherpa members of expedition, including Miroslav Hruska, in Tanchen valley
As a young man in Czechoslovakia, my father had spent a lot of his time in the High and Low Tatra Mountains on the Czech – Polish border; it was here that he acquired his love for mountains and trekking. He had been a noted downhill and cross country skier, and a ski jumper for both his province of Moravia and Czechoslovakia. When the opportunity arose to go to India, the prospect of skiing and trekking in the Himalayas was an obvious attraction. In December – January 1944/45 during the Second World War, he took the opportunity to ski in Gulmarg located in Kashmir. The Ski Club of India was holding its annual ski championships on the Apharbat range above Gulmarg and my father won the 1944/45 championship. On moving to Calcutta in 1939, he became active in local mountaineering circles. After joining the Himalayan Mountaineering Club, he became its equipment officer. He provided storage facilities in his factory, where he maintained the club's equipment and loaned it out to major mountaineering groups and other local mountaineering enthusiasts that were planning to undertake expeditions in the Himalayas.
As my father's family and business interests prospered, demands on his time increased and he could not find the time for further extended expeditions. However, he continued to trek in the Himalayas on shorter, less risky and less strenuous expeditions throughout the 1950s.
Related Links