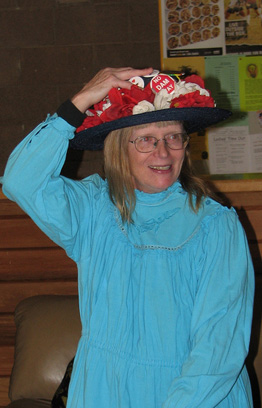 Martha Kostuch
July 8, 1949- April 23, 2008
Martha Kostuch, the environmental activist, was born shortly after she moved from her native Minnesota to Rocky Mountain House in 1975. Two key events in those early years caused Martha to push back, and her activism set in a motion a lifetime of work for the Environment.
First, the dream some developers had to build a 300-room hotel complex on pristine land next to the Cline River near Rocky Mountain House was a vision that ran contrary to Martha's. Martha fought to halt what was known as the Odyssey Resort Project, and formed the Alberta League for Environmentally Responsible Tourism (ALERT) to block it. Second, during her work as a vet, Martha made the link between high sulphur dioxide emissions in the area and sickness in cattle and humans. Once she made the link she immediately went to work to see that emissions were lowered. These two early fights helped form and transform Martha Kostuch into the respected and feared activist she became.
By 2004 sulphur dioxide emissions were 1/5 th of what they had been at, making this issue one of Martha's successes, though there is the possibility that the pollutants in the air affected Martha's health as well.
By all accounts most of Martha's activism saw positive results. And even when the Oldman River Dam went ahead after a protracted struggle to block the project, Martha counted the regulations and assessments that resulted from the process as a success.