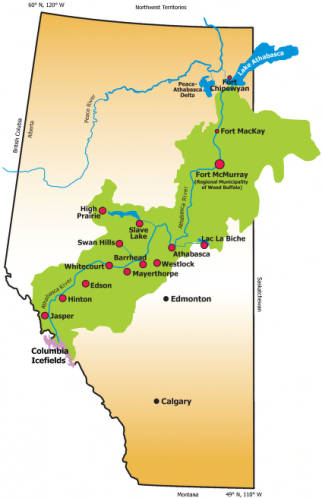 About this project
Copyright
All images are copy righted as indicated. Their use is free for educational or non-commercial purposes (e.g. research publication) as long as the creator and ARBIB are acknowledged.
Contact
ARBRI, Athabasca University, Athabasca, Alberta, Canada
Athabasca River Basin
The Athabasca River Basin (ARB) occupies an area of 133,000 square kilometres within central and northern Alberta, with a small portion in north-western Saskatchewan. The Athabasca River originates in the Columbia Ice Fields and ends in Lake Athabasca. The waters eventually reach the Arctic Ocean via the Mackenzie River. The Athabasca River is 1,230 km long. Its tributaries consist of 101 rivers, more than 150 named creeks, and more than 153 named lakes. Over 150,000 people live in the ARB; in one city (Fort McMurray), 12 towns (Athabasca, Barrhead, Edson, Jasper, High Prairie, Hinton, Lac La Biche, Mayerthorpe, Slave Lake, Swan Hills, Westlock, and Whitecourt), and more than 75 villages and other government jurisdictions.